« September 2008 | Main | November 2008 »
October 26, 2008
15-Year Anniversary Dinner
Having hit
15 years at Microsoft
and received the
accompanying award
, I was also invited to a dinner last Tuesday for all people who hit 15 this year. The dinner was at the
Westin Seattle
downtown, and was quite a nice shindig; in addition to a very nice dinner there was a band, and brief speeches from Brad Smith (a VP who started that year) and Lisa Brummel, Senior VP of HR.
In case you are thinking "Sounds great, but what about dessert", there were two choices in that area. Luckily my wife has resigned herself to the fact that I tend to do things like take pictures of dessert, so we have photographic evidence. This is the "Dark chocolate vortex with hazelnut cream and decadent timbale & chardonnay poached pears":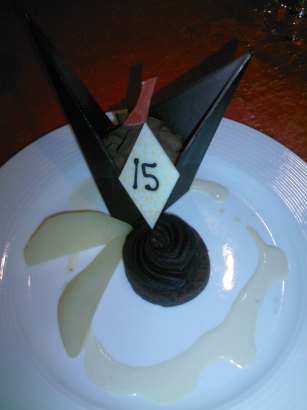 and here is the "Green tea mousse in white chocolate moon boat and mango compote":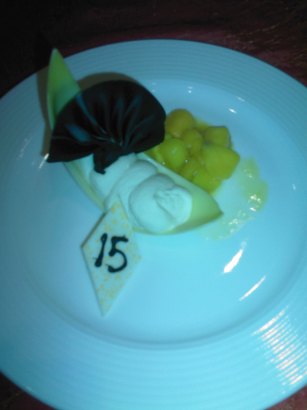 The only slightly off thing about the whole evening was that they kept talking about us as the "class of 1993", as if we had all started at Microsoft in that year. For example they mentioned that the first version of NT was announced in 1993; I certainly knew this, since by then I had spent 3+ years working on it. I suspect a high number of people from that era are "restarts" like me, that is, they took a break during their Microsoft career (the event, like the crystal award, was based on hitting 15 years of total accumulated service in 2008). Just of the people I knew who were there (which was a surprisingly small number), the original start dates were 1987, 1988, 1990 (that's me), 1992, and one actual member of the class of 1993.
At the dinner I reflected briefly on the fact that I have spent approximately 36% of my time on Earth working at Microsoft. After the eating was done some people stuck around to dance, but we went home--like many 15-year vets, we had a babysitter to relieve. In any case it was a nice evening and appreciated by all of us, whenever we actually started working here.
Posted by AdamBa at 09:59 PM | Comments (1)
October 08, 2008
Passing the Torch
I recently went to a talk by David Treadwell, a Microsoft VP who was a contemporary of mine in the early days of NT. He was discussing his career and mentioned that one of the things that inspired him to want to work on a project like NT was having read
The Soul of a New Machine
when he was younger. In fact he said it in an offhand way, as if this was quite common for people in that generation.
I don't know how common it is, but I certainly was also inspired by the book. Which is why it warms the cockles of my heart when somebody comes up to me after a class and says that my book inspired them to come work at Microsoft. It doesn't happen that often (three times in the last year, I think), and I suspect if everybody who had ever read the book showed up it wouldn't make much of a dent in our hiring goals, but it is still nice to hear. Even the guy who said he read the book and was inspired to turn down an offer to work in Test, which probably reflects a misunderstanding of what I wrote (he eventually wound up as a developer). I guess if one of them ever writes a book, then Tracy Kidder will be a grand-dad.
Posted by AdamBa at 09:44 PM | Comments (0)
October 06, 2008
Running Portland
I ran the
Seattle Marathon
three years ago because I wanted to run a marathon, and I ran the
Bellingham Bay Marathon
last year because I wanted run a marathon without taking walking breaks. I hit those goals, but I wasn't happy with my times (4:44 and 4:47, respectively), so I signed up for the
Portland Marathon
, which was yesterday, with the goal of completing one a bit faster.
I had the same rough time targets as in Bellingham last year: definitely hit 4:30, 4:22 would be nice, 4:15 would be fantastic. My training had gone well; I hadn't gotten sick and I had completed 3 20+ mile runs. I had also discovered just how important the weather is to running. I read somewhere (I think in Wired, talking about the Nike Ice Vest) that when running your body spends 75% of its energy regulating temperature, and this was my experience on the long runs; on the two cloudy ones I had no trouble breaking a 10-minute-mile pace, while on the sunny day I got dehydrated a couple of miles from the end and had to stop to guzzle 40 ounces of water from a fountain (I know it was 40 ounces because it filled the two water bottles on my Amphipod Full-Tilt 20-20, which fulfilled my long quest for a hydration belt that works for me). Then there was the debacle of the Seafair Half-Marathon in June, where I did catch the bus to the starting line on time, but after slogging through 88-degree heat to finish the first half in just over an hour, I hit the wall when I mistook Gleukos sports drink for water, walked every hill in the second half, and straggled across the finish line in 2:17:20.
The long-term forecast in the week leading up to Portland looked like the weather was going to cooperate: 55 degrees and partly cloudy, which is close to ideal for a long race. This turned out to be half right. It was 55 degrees but it drizzled for much of the time, and the sun kept well-hidden behind the clouds. Still it wasn't windy and I can't complain about the weather.
The race started out well. I've worked out a standard nutrition plan: one packet of chocolate GU 15 minutes before the race starts, then two Clif Shot Bloks every half hour, washed down with 5 ounces of Gatorade/water mix. Since the race has water stations I also drink a cup of water at each station and drink a bit less of the Gatorade (which I am carrying with me) so it lasts longer. I was cruising along at a pretty good pace, ahead of the 4:15 pace group by a couple of minutes at the turnaround at mile 9. I reached the midpoint of the race in 2:01:18 and briefly fantasized about breaking 4 hours, but I realized this was impossible once I hit the climb to the St. John's Bridge at mile 16. I ran up it, but it definitely took the wind out of my sails (I distracted myself by noticing that the design, by David Steinman, is a bit unusual; the descenders are attached to the truss, which is above the deck, rather than directly to the deck). The very peak of the bridge is mile 17; I was happy to have hit the high point of the race but also was tired, and my knees were starting to hurt.
At that point I had to grit my teeth a bit and pound out some miles. I knew I was starting to slow down, but I managed to keep ahead of the 4:15 pace group until about mile 22. I let the pace group drag me along for a while, but fell behind at a water station. I knew I wasn't going to hit 4:15 but was almost certainly going to hit 4:20, so I didn't stress too much. I wound up finishing in 4:18:55, which is a PR by 25 minutes and nothing to sneeze at. The chocolate milk they handed out in the finish area tasted great.
Besides showing basic results, the Portland Marathon website has some other interesting info. Start here for my basic time and where I placed relative to everyone else; then click "Next" to see my average speed and pace (9:53 miles) and a view of who finished right around me, and then Next again to see my pace for different sections of the race: 9:21 miles for the first 6.2 miles, 9:10 miles to the halfway point, 10:12 miles for the next 8 miles, and 10:57 miles for the last 5.1 miles. Actually I know I hit mile 23 with the 4:15 pace group and the pacer announced they were 10 seconds ahead, so that would be 3:43:40, so I ran the last 3.2 miles in 35:15, just a hair over 11 minute miles. The main results page for the marathon shows the total average pace at different points: I was at 9:16 at the halfway point and still at 9:37 after 21.1 miles. If I had maintained my 10:12 mile pace (from miles 13.1 to 21.1) for the last 5.1 miles, I still would have missed 4:15 by about 15 seconds, and of course that 10:12 is misleading; I was continuing to crank out 9:15 miles until the St. John's Bridge, and then started going slower. Arguably I could have paced myself a bit earlier, but I think a slowdown in the second half was inevitable. It didn't help that my socks were soaked to the bone, which made even the downhills painful as my feet slid around in my shoes (after Bellingham last year I lost a toenail on each foot; I think the same toenail on my right foot is doomed this year, and I'm not too confident in the left foot either).
The net is that I'm quite happy overall with the run...and I might even run another one some day. New York, anyone?
Posted by AdamBa at 09:12 PM | Comments (0)
October 02, 2008
My 15-Year Award
I received my 15-year service award at our group meeting last week. Here it is in all its crystal glory: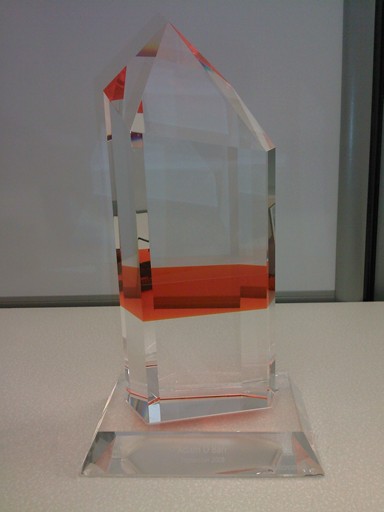 It is quite a clever design; the only actual orange on it is the band around the middle, but it reflects internally so that it looks like the top is orange also. Here's a view from the top: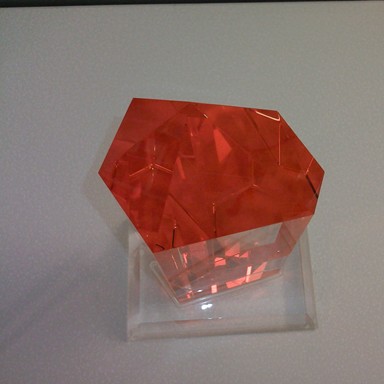 I was inspired to bring in my other service awards, which pre-date the new-style awards. Here they are getting to know one another: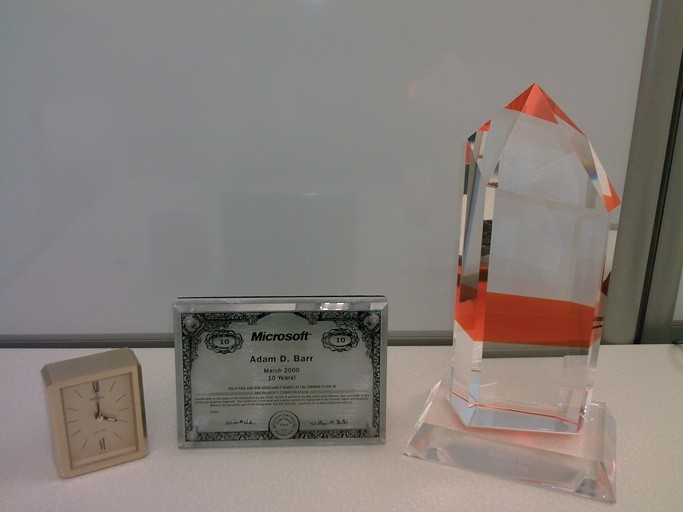 Hmmm, seems like something is missing from that photo. Oh right, you can't see what they are saying to each other: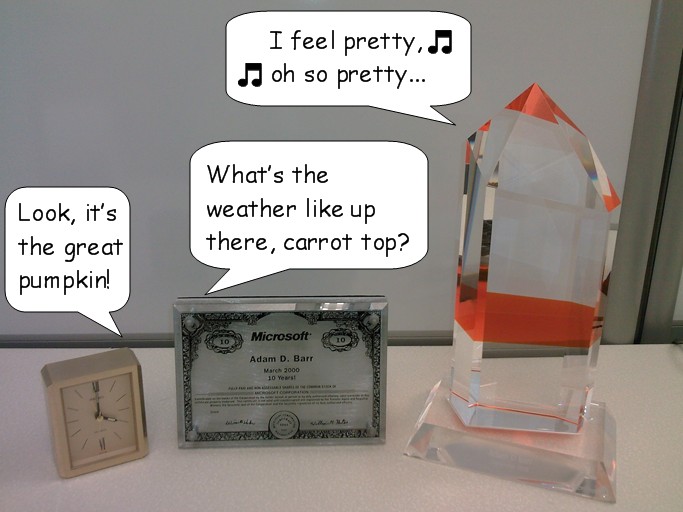 I also noticed there was a Facebook group Microsoft Old-timers, whose qualification is 15+ years at the company. Bing!
Posted by AdamBa at 09:58 AM | Comments (2)