« Passing the Torch | Main | Election Day 2008 »
October 26, 2008
15-Year Anniversary Dinner
Having hit
15 years at Microsoft
and received the
accompanying award
, I was also invited to a dinner last Tuesday for all people who hit 15 this year. The dinner was at the
Westin Seattle
downtown, and was quite a nice shindig; in addition to a very nice dinner there was a band, and brief speeches from Brad Smith (a VP who started that year) and Lisa Brummel, Senior VP of HR.
In case you are thinking "Sounds great, but what about dessert", there were two choices in that area. Luckily my wife has resigned herself to the fact that I tend to do things like take pictures of dessert, so we have photographic evidence. This is the "Dark chocolate vortex with hazelnut cream and decadent timbale & chardonnay poached pears":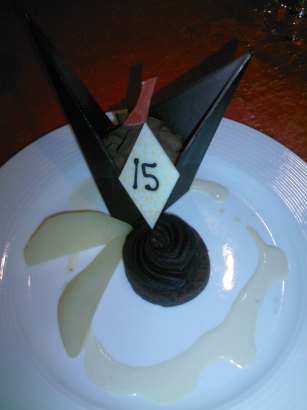 and here is the "Green tea mousse in white chocolate moon boat and mango compote":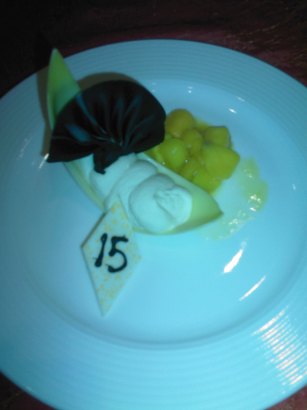 The only slightly off thing about the whole evening was that they kept talking about us as the "class of 1993", as if we had all started at Microsoft in that year. For example they mentioned that the first version of NT was announced in 1993; I certainly knew this, since by then I had spent 3+ years working on it. I suspect a high number of people from that era are "restarts" like me, that is, they took a break during their Microsoft career (the event, like the crystal award, was based on hitting 15 years of total accumulated service in 2008). Just of the people I knew who were there (which was a surprisingly small number), the original start dates were 1987, 1988, 1990 (that's me), 1992, and one actual member of the class of 1993.
At the dinner I reflected briefly on the fact that I have spent approximately 36% of my time on Earth working at Microsoft. After the eating was done some people stuck around to dance, but we went home--like many 15-year vets, we had a babysitter to relieve. In any case it was a nice evening and appreciated by all of us, whenever we actually started working here.
Posted by AdamBa at October 26, 2008 09:59 PM
Comments
Posted by: Omar Shahine at October 29, 2008 08:33 PM