« Draft Environmental Impact Statement for Sound Transit Eastlink | Main | Solving Brain Ticklers with PowerShell »
December 18, 2008
Snow Days, With and Without Snow
Yesterday (Wednesday) most schools in the Seattle area closed because it was supposed to start snowing in the middle of the day...but it never did. Then today they were closed because it did snow overnight, and then kept snowing (they are also closed tomorrow because the roads are hopeless).
Today was a legitimate snow day; I measured 7 inches at our house, but some people said it was more like 9: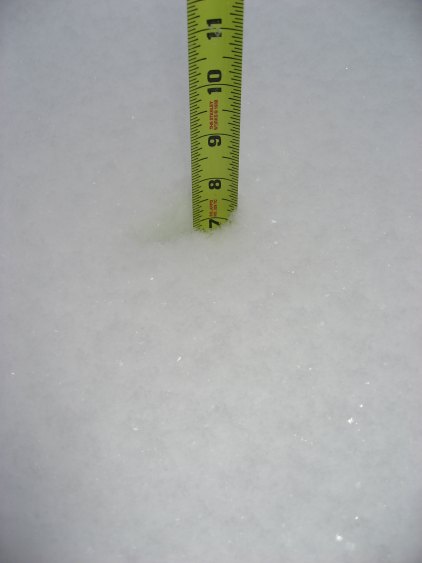 In any amount, snow in Seattle (or lack of snow in Seattle) seems to bring out various attitudes in the locals:
Complaints about how wimpy we are because the city isn't equipped to deal with even a small snowfall.
Complaints about how nobody knows how to drive in the snow.
Complaints about the Washington football team (not specifically due to snow, but induced by anything or nothing, as always).
I find these complaints tedious. Of course Seattle isn't equipped to deal with snow; why should we be, when it rarely snows here? If we spent lots of money on a big fleet of snowplows and snowblowers, people would complain we were wasting money. It would be silly for people to put snow tires on their cars when they would only be useful a couple of times a year. Anyway I find that the area actually is pretty well equipped to deal with snow; even li'l old Redmond has some plows and sanding machines they can hook onto pickup trucks, and there IS a fleet of snowplows (and snowblowers and all that) to keep the mountain passes open, a mere 50 miles east of here. And people put chains on their cars if needed. Meanwhile, the moaning about bad driving is just people acting superior; everybody is a good snow driver until they spin out and hit a tree. I find that there is no such thing as "knowing how" to drive on snow, any more than people "know how" to drive on gravel roads; you've either had enough experience on snow (to figure out that you have to drive slower, you maniac!) or you haven't. When I drive up to the ski hills, all the Seattleites magically seem to drive just fine on the snow.
Of course people are complaining that school was canceled yesterday when it didn't snow, but really I don't see how the school boards could have decided otherwise. Having kids stuck at school when it snows mid-day is much worse than missing a day which they can make up in June, when it will merely be raining all the time. I guess the moral of the story is that people in Seattle like to complain--like I'm doing right now (except I'm meta-complaining, which is better or worse, depending on your viewpoint).
Whatever you think of snow as an adult, it certainly was a good day to be a kid: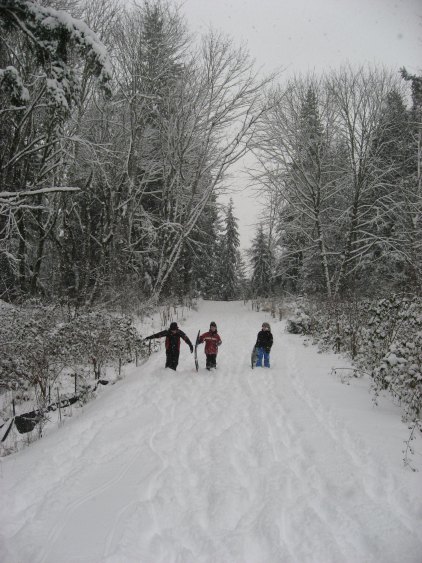 Posted by AdamBa at December 18, 2008 10:51 PM
Comments
It gives east coasters something to brag about :)
I was in the Minneapolis area once during winter. They had so many potholes on the streets that there was no way you were going to lose traction.
Posted by: Sid Singh at December 19, 2008 07:45 PM
I think we have like 18 inches at our house, the slightly higher elevation makes a huge difference. It looks like a ski resort at my house!
Posted by: bobt at December 20, 2008 07:22 PM