« Canadian Election Results Blocked Online Until Polls Close Everywhere | Main | Blog Stages »
January 27, 2006
Upgrade to the New Microsoft Service Awards
Microsoft gives out service awards on various anniversaries of your start date. It used to be a clock for 5 years, then for 10 and 15 you got an acrylic-over-metal plaque that looked like a miniature share of stock (with the number of shares equal to the number of years). I think you get the same thing for 20 years. Larry Osterman
hit 20 years
a little while ago; in the picture with
this article
you can see his service awards on the bookshelf (in front of the fire engine or whatever that is). The thing on the left (just to the right of the edge of the monitor) is one of the plaques; the black thing next to it might be an older style of 10-year award; the gold thing is a 5-year clock (the clock design has changed over the years). To the right of the clock is a wood pen holder which used to be given out as a 3-year award; I'm not sure when precisely that was stopped but I know people who started in the summer of 1988 got one, and people who started on March 5, 1990 didn't get one.
As of January 1st, Microsoft announced new service awards, designed by something or someone called Hybrid3, and produced by glass artist Steven Weinberg. They are "optical crystal" with a color band across the middle (different color for different awards). They get bigger as you get older, so the blue one is for 5 years, and the yellow one is for 20: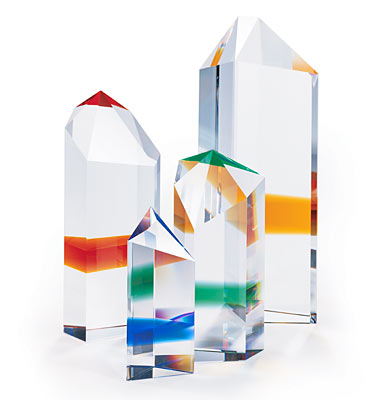 For a sense of scale, the blue one is 7 inches tall and the yellow one is 14 inches tall (if you are a Microsoft employee and want to see them in person, go to building 100, they have them on display at Benefits downstairs). There's also evidently a 25-year one, not shown, where the color band has all four colors in it (I don't believe there are any current 25-year employees besides Bill and Steve).
If you are a Microsoft employee who previously qualified for a service award (and are still working there), you can order a new-style service award. The awards actually have two parts, an Award (what's shown in the picture) and a Base. You can order them separately or together. These things aren't cheap; the 5-year Award is over $100 and the 20-year one is getting up towards 4 digits.
I'm impressed that Microsoft was able to take something pretty standard like a service award and go to the trouble of designing something that looked nice and was unique. Not to mention footing the bill for them as employees hit future service milestones (I recall being a bit miffed when I saw my 5-year clock advertised in a catalog for $50 or so). I'm actually considering upgrading myself. The order form just asks for a credit card; no doubt some people (not me!) will try to expense these, although I don't see any official policy one way or the other.
Posted by AdamBa at January 27, 2006 02:00 PM
Trackback Pings
TrackBack URL for this entry:
http://proudlyserving.com/cgi-bin/mt-tb.cgi/392
Comments
I wonder is the designer pervert or it is just me?
I really want to see what the Base looks like;)
...
BTW I think I didn't get something. Are you buying these things? What kind of award is it if you have to buy it by yourself?
Posted by: Ivan at January 29, 2006 03:34 AM
The base is just a slightly bigger trapezoidal shape in the same or similar material.
To clarify (I know it was confusing): from Jan. 1 onwards, if you hit a milestone, you get an award for free.
If you previously (before this year) hit a milestone and you got the old service award (the clock, or the stock thing) and you still work at Microsoft, you can buy the new-style award.
It seems reasonable to me; I already received the 5- and 10-year awards that were current at the time, and I don't expect Microsoft to retroactively pay for updated awards for me (and the 10,000 or whatever other people in the same situation). Yet the new awards ARE cool and unique and so allowing us to buy them is nice.
- adam
Posted by: Adam Barr at January 29, 2006 08:55 AM
Ivan, here is a picture of the award WITH the base from someone who just got one:
http://spaces.msn.com/mfp2/blog/cns!D505B68DC47FB664!181.entry
Evidently the base is where they engrave your name.
- adam
Posted by: Adam Barr at January 29, 2006 10:51 PM
Actually I think MarkZ hit 25 years a couple of weeks ago so that would make three. There should be six people in 2006 that hit 25 years in addition to Bill and Steve. In building 33 there is a new wall that lists all of the employees with 25 years.
Posted by: Aaron at January 31, 2006 08:31 PM
Someone in my group just hit 10 years today (I'm eating a small piece of his 10 pounds of chocolate right now). He got his award but it was chipped, they took it back and are ordering a new one, so I didn't get to see it. He actually said he had been thinking about the 10-year stock plaque as a reward for 10 years so it was a bit strange to receive something else.
- adam
Posted by: Adam Barr at February 1, 2006 08:39 AM