« Political Musings | Main | The Votemaster is Andrew Tanenbaum »
October 31, 2004
Happy Halloween
I showed my son the pictures I took of the Channel 9 Guy at
Legoland
and
Disneyland
. He was immediately sold on the whole Channel 9 Guy concept, and when we were carving pumpkins last night, he asked me to produce this: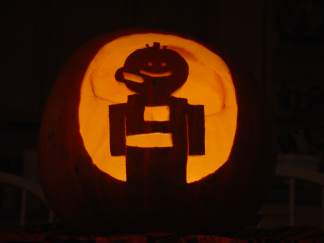 Yea verily, 'tis the Channel 9 Guy carved on a pumpkin. Click on the image for a large version.
(Which reminds me that when I told one of the Master Builders at Legoland about the notion of taking a picture of a small insider icon at different locations around the world, he said "Oh sure, we do something similar with a guy named 'Brad Venture'".)
On Friday we did trick-or-treating at Microsoft. People bring candy in to their offices and kids walk around and trick-or-treat. It's a good time and Microsoft chips in with some hay, cauldrons and snacks in the lobby (all coordinated by our long-suffering administrative assistants, who deserve much thanks for putting it together). Of course this is a huge scam for the kids who merely have to walk from office to office for their goodies. It's even easier than going to the mall, and a whole order of magnitude easier than going door-to-door outside, the only option when we were kids (in the frozen wilds of Montreal, in my case, where costume design was always predicated on the necessity of including a winter coat in there somewhere).
The good thing this year was that Halloween was on a weekend, so the office trick-or-treat was on a different day from the neighborhood one. When they coincide, it is a gigantic cluster as people rip through the offices at work, then try to rush home (along with everyone else, causing a huge traffic jam) to hit the neighborhood before everyone douses their pumpkins. I don't know why Microsoft doesn't do its trick-or-treat on the last workday before Halloween in all cases, it works so much better (for example next year Halloween is on a Monday, they could do t-and-t on the preceding Friday).
Posted by AdamBa at October 31, 2004 07:30 AM
Trackback Pings
TrackBack URL for this entry:
http://proudlyserving.com/cgi-bin/mt-tb.cgi/66
Comments
This is just priceless!
@Matthew
Posted by: Matthew Weyer at November 1, 2004 12:12 AM