« Recycling Computers | Main | Article in MSDN Magazine »
May 06, 2007
A Baseball Story: Joe and Me (and Roger)
Gather round everybody, because I'm going to tell a baseball story. Like all baseball stories, it is deep in the American vein, so deep in fact it is by no means a sports story, to paraphrase the late David Halberstam. It's the story of two baseball fans, Joe and Adam.
Joe is a longtime Red Sox season-ticket holder from New Hampshire. Yes, another long-suffering fan who was redeemed by Dave Roberts's steal and Bill Mueller's single and David Ortiz's home run and Curt Schilling's sock and Pedro Martinez's three-hitter and all the other improbable heroics that led to the Red Sox winning the World Series in 2004.
Adam is me. I grew up in Montreal, following the Expos. When I was young the Expos were terrible, until they suddenly got good in 1979. Then they veered between good and terrible for a while, until in 1994 they found themselves with the best team in baseball. Then came the players' strike which wiped out the 1994 World Series and ultimately wiped out professional baseball in Montreal.
So what connects Joe and Adam?
As longtime readers may recall, last August I wrote about one of my favorite baseball pictures, taken just after Roger Clemens recorded his 20th strikeout in a baseball game on April 29, 1986. If you follow the link to that article, you will notice that I have removed the picture itself. I had originally included a version doctored up with pictures of the characters from Walt Kelly's Pogo, to avoid having my posting be the start of online circulation of the picture. At the time all I knew about the picture was that it had appeared in Sports Illustrated and had been taken by a fan, not a professional photographer; since I could not find it online I did not want to be the first to post an intact version. The picture had been featured in an article about the 20th anniversary of the game, which I had seen in my dentist's office; I went on eBay and bought a copy of that issue, and scanned the picture out of that.
Fast forward to last month, when I received a phone call from a man in New Hampshire named Joe Hickey. Who is Joe Hickey? Well, he's the Joe I discussed above. But more importantly, Joe Hickey is the person who took that photo of Clemens's 20th strikeout. He is the fan that Sports Illustrated had mentioned but not named, who stuck around until the end of the game and was there to take the historic picture, after all the professionals had left (there was a Boston Celtics playoff game and the NHL draft both taking place in Boston that night, and both indoors). He had been searching on the web and found my picture, and he was calling to see what was up.
It turned out that a few days before he called, he had sent me email, and had enlisted several of his friends to also send me email. For some unknown reason they had all been marked as spam by my spam filter and ignored by me, so when Joe called he was wondering what my motives were. In fact he had been nervous about calling me at all, but luckily in my original post I had given my list of why I thought the picture was so great, which at least indicated my appreciation for the game and the picture; this had helped convince Joe it was at least worth a try.
After a bit of verbal sparring it became clear that I was not trying to rip Joe off, and that Joe was not looking to sue me. Furthermore, as Tommy Lasorda said, inside every home team fan is an even bigger baseball fan, and we were both baseball fans. Surely if two people are baseball fans they can't really get upset at each other over something like this...and indeed Joe and I were soon reminiscing like we'd known each other forever. Joe had recently been to the Fenway park debut of Daisuke Matsuzaka, when the Mariners had beaten Boston behind a Felix Hernandez one-hitter. We talked for 45 minutes. At one point I connected the dots and realized that I WAS TALKING TO SOMEONE WHO HAD SEEN ROGER CLEMENS STRIKE OUT 20 PEOPLE, which I could scarcely believe.
(One other thing that Joe mentioned was that he was friends with Luis Tiant, Jr., the former Red Sox pitcher. That's right, El Tiante, Mr. "Possibly Linear B inscript." himself. In fact Tiant was one of the people cced on Joe's original email to me, so when I replied I was sending mail to Luis Tiant. And THAT'S something I never expected to be able to say.)
Joe explained that he had created limited edition framed prints of the picture in different sizes. The small and medium ones were sold out, but he still had some of the large ones left. He had been planning to not sell them until Roger Clemens entered the Hall of Fame, but Clemens kept pitching (and in fact this very day just announced he was un-retiring again). Part of the motivation for contacting me was concern that my showing the picture (even in its hacked-up form) might hurt sales of them. This made me feel extremely guilty about posting it before, which is why I took it down.
This is an official version of the picture from Joe, which shows the copyright correctly assigned to him, and which he authorized me to post: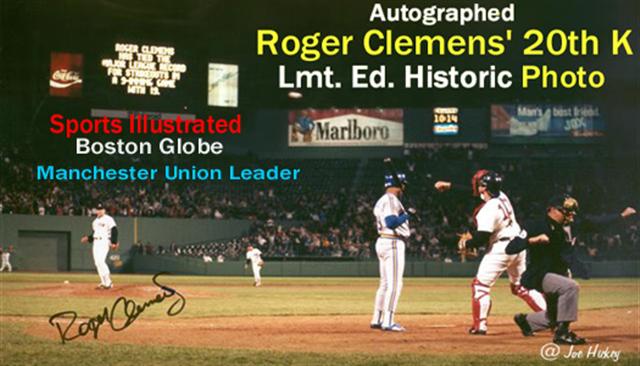 You can see it's amazing for the all the reasons I listed in my original post. When I heard about the large frame prints, of course I had to buy one of them. I sent Joe a check and last Thursday the picture showed up. It looks fantastic. At that size you can see details like Steve Lyons, the center fielder, throwing up his arms in triumph. Also you can tell more clearly that the catcher is throwing the ball around the horn, starting with Wade Boggs at third, and not back to Clemens (which might somewhat explain Clemens's relaxed posture).
To assuage my residual guilt, let me put in a plug for Joe. You want a unique baseball memento that is NOT produced by a big corporation, but by a devoted fan and his wife? Then listen up.
The large framed pictures are 38 inches by 23 inches. Each of them is signed by Roger Clemens and also has extra information on the back including the box score, copy of the ticket stub, other photos from the game, a photo of Clemens signing the prints, and a copy of a letter from the Hall of Fame acknowledging receipt of a copy of the picture. I know there are a bunch of you Harvard/M.I.T. types out there who are Red Sox fans, and what better picture to hang in your den than this one, signed by the Rocket himself? It's a limited edition of 50 and Joe doesn't have a lot of them left. They aren't cheap, but who can put a price on something like this? Well, I can, if you email me and express your interest. I'll tell you what they cost and forward your email on to Joe if you want to buy one. On behalf of a fellow baseball fan, thank you!
Posted by AdamBa at May 6, 2007 10:52 PM
Trackback Pings
TrackBack URL for this entry:
http://proudlyserving.com/cgi-bin/mt-tb.cgi/578
Comments
But did Joe realize that he was talking to someone who saw PETE ROSE'S 4230th HIT (I think that was the number, but it was the one that broke the old record)?
Posted by: marble chair at May 7, 2007 05:39 AM
No, because I'm pretty sure he was actually talking to the SON of somebody who saw that. And possibly the brother also. I know we have debated this in the past, but I think you are getting your children mixed up.
- adam
Posted by: Adam Barr at May 7, 2007 07:19 AM
Adam....this should show the world that all Microsoft employees are not arrogant or selfish when they deal with their fellow man. Thank you so much for taking the time and the effort to place my photograph and your comments on you blog out there in cyber-space. You now have an open invitation to come with me to a game at Fenway if you ever travel back East. If you have never been there, I'm sure you will enjoy the experience and the passion of Red Sox nation. Life is often strange and sometimes utterly unpredictable. This has been a genuine and pleasurable baseball story that both of us will probably never forget. Joe and Barbara Hickey
Posted by: Joe Hickey at May 7, 2007 06:52 PM