« Breaking Training | Main | At the Forum »
June 04, 2008
The Surveilled Realm
When I was in London last month, one thing I noticed was
Closed-circuit television
(CCTV) cameras everywhere.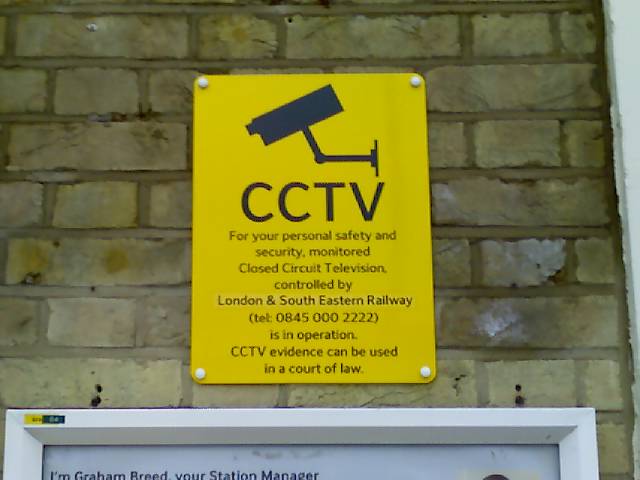 Actually the CCTV cameras are not particularly in evidence, but the CCTV signs are everywhere (some of them are possibly decoys, who knows).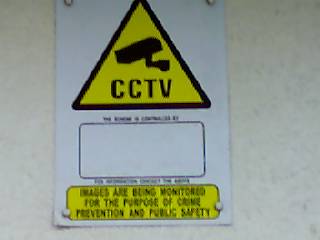 At the Science Museum they had a sign that claimed there were (I think) 4 million CCTV cameras in Britain. The sign announcing this was gleefully located just under a camera that was filming the entrance.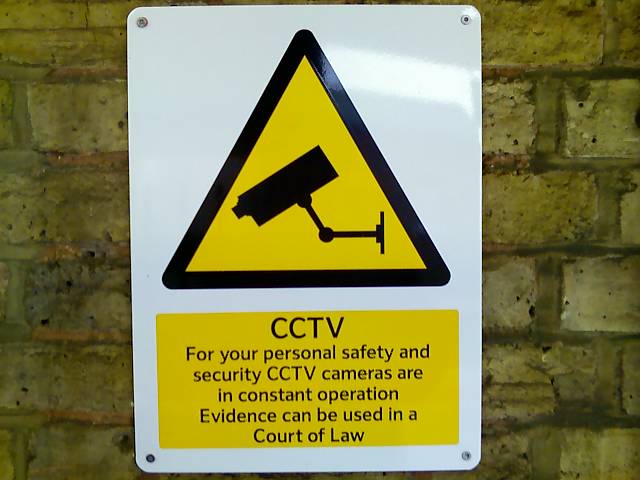 They certainly abound in all the transit stations, parks, and tourist attractions that I visited, as well as the entrance to chi-chi apartment blocks near Harrod's.
One related fact is that there are also lots of speed cameras on the highway. In fact the guy driving the rental car shuttle at Heathrow warned me about them. When I was driving on the highway I tried to keep pace with the other cars. Of course a speed camera can zap everybody at once but I figured that experienced drivers would know where they were, so if I just kept pace, the wisdom of crowds would kick in and slow everybody down anyplace I could get nabbed.
So, I was a bit surprised when I received a notice from Avis saying that my rental car had been caught in a traffic infraction and they had forwarded my name to the issuing authority (and also nicked me 25 pounds for this service). I was prepared to take my lumps until I received my Amex bill and noticed that Avis had charged me for two rentals. I was hopeful that perhaps the incorrectly charged one was the one that committed the offence
Sure enough when I finally received the letter with the ticket, the license plate that had been faithfully captured by the camera was not the one on my rental car (the infraction was entering the Londong Congestion Charging Zone without paying; I was aware of the Zone and had purposely avoided driving downtown for this reason (and other reasons, like the congestion that the Zone is designed to alleviate)). I confined my actual driving to a Heathrow-Windsor-Shepperton triangle and rode the train into the city.
But now I have to remove this blot from my record, and I'm not particularly sanguine about my chances. I faxed a detailed letter to Euro Parking Collection, the company that administers the fines for the Congestion Zone, documenting all of this (my rental receipt, the dual charges on my Amex bill, the letter from Avis with a different rental number from mine) but who knows how long it will take them to untangle this. I currently owe 60 pounds, in 14 days (of which 11 have already passed) it goes up to 120 pounds, and in 28 days it jumps to 180 pounds. And it all began because Avis made a simple mistake in assigning a charge to the wrong credit card.
I complained to Avis about the double billing and disputed the charge with Amex, but the chain that has to be followed is pretty long. Amex will talk to Avis, Avis will hopefully talk to Euro Parking Collection, maybe Euro Parking Collection has to ask Boris Johnson about it, but meantime the fines will be mounting. If EPC contacts Avis too quickly, before Avis has finished their investigation, they may come back confirming that it was indeed my rental, and then EPC will come after me with renewed vigor. Hopefully justice will be served in the end, but I may wind up banned from the UK for a couple of years first.
Posted by AdamBa at June 4, 2008 09:32 PM
Trackback Pings
TrackBack URL for this entry:
http://proudlyserving.com/cgi-bin/mt-tb.cgi/665
Comments
It's probably worth getting hold of EPC directly too.
From their site:
"If you believe that the fine/charge/notice has been issued to you in error, you have the right to appeal or make a representation. If you have any documents supporting your case, please enclose them with your correspondence. Please note that we cannot guarantee the return of these documents. We therefore advise you to supply us with good copies of the original documents."
http://www.epcplc.com/notice.php
Their contact details:
Euro Parking Collection plc (EPC),
83-93 Shepperton Road,
London,
N1 3DF,
United Kingdom
Tel: +44 (0)20 7288 9740
Fax: +44 (0)20 7288 9741
Posted by: Cronan at June 5, 2008 12:14 AM
If UK customer service was anything but absolutely terrible, then Avis, realising their mistake would fix this - after all they are the reason you got the fine. I wouldn't, however, hold your breath whilst you wait.
Maybe it is just Avis in Europe? The office at CDG in Paris gave me a broken car once and after agreeing I could have an extra day (because I had wasted one getting nowhere) they still insisted on overcharging me for an extra day when I returned it.
Posted by: Ross at June 5, 2008 12:57 AM
There are only 50million people in Britain, so in the long run I think the more cost effective soultion will be to attach the camera to the person.
Posted by: mat roberts at June 5, 2008 02:17 AM
Cronan, thanks for the links. I did send EPC my representation...but it may be hard to prove a negative. Just because I rented one car at Heathrow doesn't mean I didn't turn around and rent another one...and then, alibi firmly established, parade through the Congestion Zone without paying.
- adam
Posted by: Adam Barr at June 5, 2008 07:45 AM
One piece of good news, it looks like Avis reversed the Amex charge. So now I have to make sure they tell EPC about it.
- adam
Posted by: Adam Barr at June 12, 2008 09:26 PM