« Pizza and Performance | Main | Using Our Stuff: Mandate or Choice? »
October 25, 2006
More Corpnet Coolness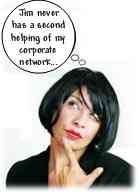 Yet another reason to get a job here...I was trying to remember an article I had read somewhere, featuring Steve Ballmer talking to another executive about interviewing. I knew it was in a business magazine some time in the 1990s, but that was basically it. So, I just sent a quick email off to the library, and they forwarded it to the Microsoft archives team, where the ever-helpful Amy dug up the reference -- even though I had misremembered just enough information to make it tricky.
Amy pointed out that she had found the information on Factiva, a search tool for magazines and newspapers that goes back the early 1990s. Try doing that on the public Internet. Microsoft has a corporate subcription to Factiva. We also have one for the ACM. And the IEEE. And the Wall Street Journal. And Directions on Microsoft. And a bunch of other stuff. So put down that apple pie, go get a CS degree, and come work here.
Posted by AdamBa at October 25, 2006 11:29 AM
Trackback Pings
TrackBack URL for this entry:
http://proudlyserving.com/cgi-bin/mt-tb.cgi/510
Comments
Please, no more Koolaid, we can't handle it anymore.
Posted by: OMG at October 25, 2006 12:50 PM
No! I will not rest until everybody is working here.
Actually, it's just an excuse to come up with more dopey pro-corpnet graphics.
- adam
Posted by: Adam Barr at October 25, 2006 03:40 PM
Ok I'll admit, I don't know exactly how well other corporate libraries (like that of Apple) size up against ours but mslibrary is pretty DAMN impressive and highly underrated even within the company (Can't count the number of times I've heard someone say, "Oh, I didn't know you could get THAT at mslibrary?").
Posted by: anonymouse at October 26, 2006 09:10 PM
MSLibrary MAY be pretty cool...but Puhleeeeeezzz can we get search working. Hell, install Google or something. I hate us sometimes.
Posted by: Maybe... at October 27, 2006 09:03 PM