« "The New Yorker" Gets 2006ish | Main | Pacific Magazine Communitiness, Times Opinion Wackiness »
August 12, 2006
Scanning on the Microsoft Printers
Sorry, this one is a bit Microsoft internal. But I just discovered that you can scan documents on the Microsoft printers, and email them to yourself (or others, even). It's only the black-and-white printers, as far as I can tell, but I still think this is so cool that I want to...tell the world! Armed with my cell phone camera, I surreptitiously took some pictures of each of the steps. I have since noticed that my cell phone camera (Razr V3C) is prone to blurry pictures unless you hold it real steady, but I was in a hurry so I wasn't real good at the steady part. I was worried somebody would wonder why I was taking pictures of the copier, but now I realize it just looked like I was standing at the copier making a phone call--still strange, but less so. Anyway the blurry pictures just add to the thrill of the whole thing. So here goes.
First, approach the machine. This is on a Document Centre 555, which I think is pretty standard in the copy rooms at Microsoft. On the main display menu, it will be sitting there saying "Ready to scan your job"...how true that is. But to scan, you actually have to select the E-mail button, circled in red below: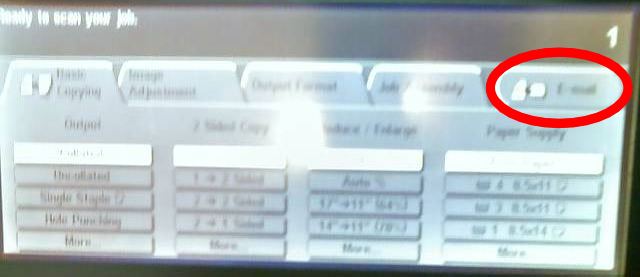 When you select email, it will give you this screen, telling you that you need to login, and offering you this single button with a keyboard icon on it:

After you press that, you have to enter your username on this screen: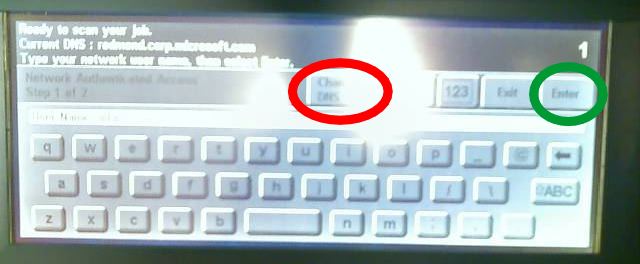 If you are in the default domain shown, then just type in your name (be careful to press right in the middle) and hit Enter (circled in green above); otherwise hit the "Change DNS" button (circled in red above). The DNS screen looks like this: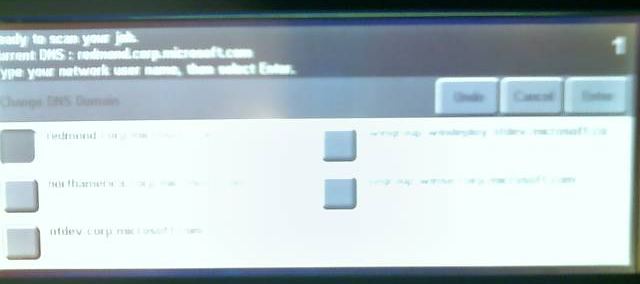 Just pick the one you want and it sends you back to the username screen where you can hit Enter. Then you come to a password screen: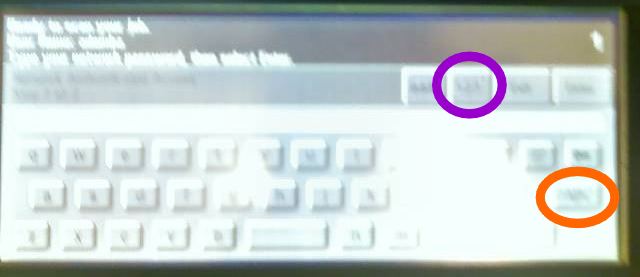 Since we all have strong passwords, you'll need to enter numbers and capital letters; there are buttons to go to a numeric screen (the one in purple, I think, this image is a bit too blurry) and also to caps lock (the one on orange, if memory serves). You then get a quick screen showing the authorization in progress: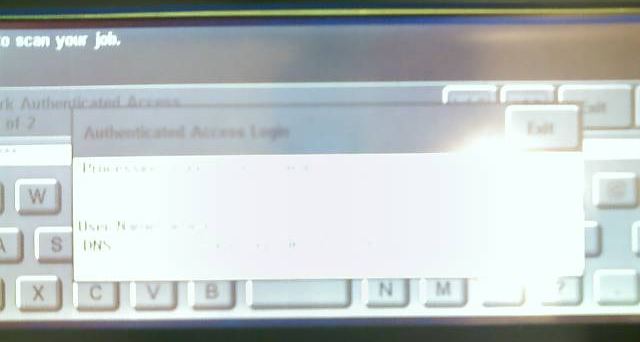 If your fumbly fingers botched the password then you get kicked back to try again; otherwise you come to this screen, where you need to enter the target email address (yours, typically). Press the To: button, circled in red:

This brings you to an address entry screen, which helpfully has both @ and . buttons, since you need to enter the full address (meaning you include the @microsoft.com part):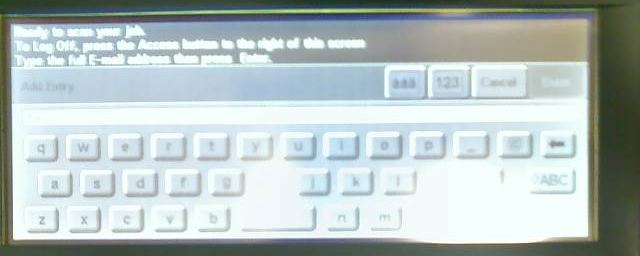 When you've done that, you now come here, with the To: address shown.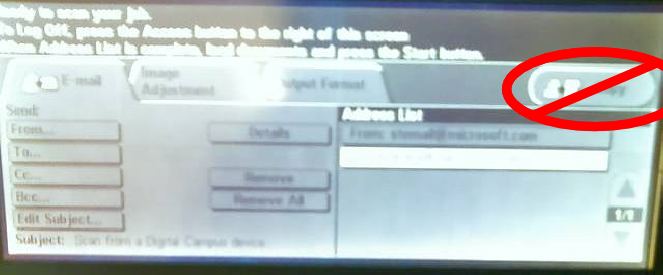 At this point you might be sorely tempted to hit the Copy button (crossed out in red), but don't do that! If you read the fine print, it tells you to hit the Start button. The Start button is actually over on the real button panel, not the touchscreen. It's circled in green: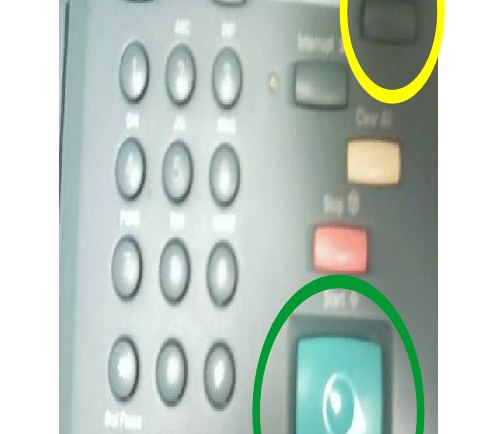 Now it should do the scan and email it. You may be tricked into thinking that nothing is happening, because you don't hear the loud clunking noises you associate with the printer; but actually those come from the paper transport. The scanner is almost silent, so look for the unearthly green glow as it glides over your document. Once the scan is done you need to hit the Access button (also on the real panel, circled in yellow on the photo above), which will then give you a logout confirmation screen: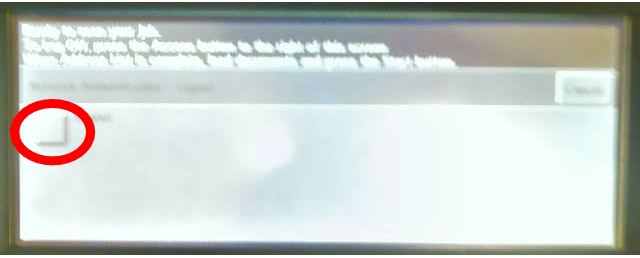 Just select logout, circled in red, and you are a proud member of the "I Scanned It At Microsoft" club.
Posted by AdamBa at August 12, 2006 09:47 PM
Trackback Pings
TrackBack URL for this entry:
http://proudlyserving.com/cgi-bin/mt-tb.cgi/473
Comments
Yeah - this is prett cool functionality with the caveat that complex passwords are a pain to enter with those keypads. I actually had a password that couldn't be entered with the characters in the keypad, so I had to trot back to my office, change my domain password and try scanning again.
My favorite feature is the fact that you can scan either as PDF or TIFF.
Posted by: UmeshU at August 13, 2006 09:46 PM
I have never been able to get this to work because my account isn't on the default domain that the software expects. Although, I have been able to convince several coworkers with the correct domain to scan my documents and email them to me :)
Posted by: Jeremy at August 14, 2006 12:47 AM
Cool! I agree, though: typing that password is a real pain. It took me quite a while to find the various punctuation marks I needed...
Posted by: Pavel Curtis at August 15, 2006 11:07 AM
Naturaly I had to run out and try this right away, and it worked like a champ (to bad it wasn't in color).
I had no trouble with my password as I use a fairly long pass phrase insted (about 4 words) with only limited punctuation.
Posted by: Fox Cutter at August 16, 2006 05:14 PM
A vacation home or cabin can be a good investment, provide rental income and give you a major income tax deduction. Vacation homes make fun financial sense

Posted by: AlyaNazaroff at August 28, 2006 05:51 PM