« Workplace Advantage Discussions | Main | Travelling Without Baggage »
July 31, 2006
OOF
This is a picture of me last Friday at the Museum of Modern Art in New York: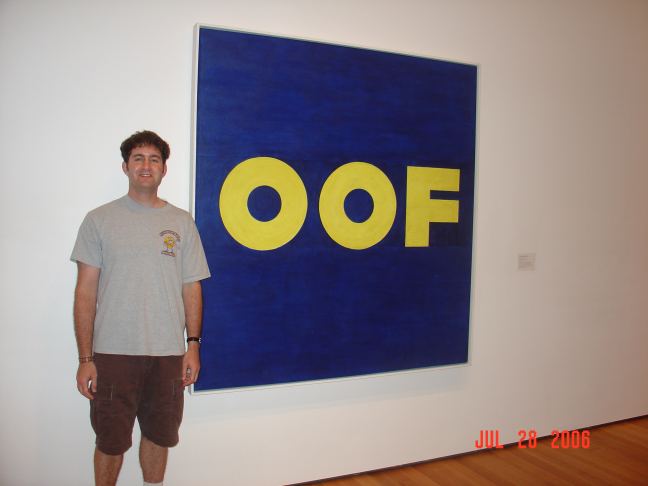 The painting is by Edward Ruscha; the joke is that I really was OOF. Since you've probably heard the story of what OOF means at Microsoft, I'll tell it in condensed form: OOF @MSFT == Out Of Office. WTF u say, OOF != acronym(Out Of Office)? OMG!! OOF c/b Out of OFfice, but actually OOF == Out Of Facility, old term from T. l8r g8r!!!
Posted by AdamBa at July 31, 2006 09:36 PM
Trackback Pings
TrackBack URL for this entry:
http://proudlyserving.com/cgi-bin/mt-tb.cgi/469
Comments
OMG...the camera really does add 10 pounds. :-)
Posted by: Just kidding at August 1, 2006 10:54 AM
I have witnessed another idiot getting photographed next to this painting.
Posted by: Cringe at August 1, 2006 11:07 AM
Funny, that's just about the way I remember you looking. When I saw the OOF, I thought that it is just FOO backwards.
Posted by: marble chair at August 1, 2006 07:30 PM