« The Gates Foundation | Main | Business Poeple Speaking Like Idiots »
October 26, 2005
Willy Wonka Cane
Our oldest son wanted to be Willy Wonka for Halloween. Costumes from the
recent movie
are easy to obtain, including the jacket and vest and even a hat with the hair included.
But for some reason nobody is selling the cane which he had in the movie. It's the one Johnny Depp is holding in this poster; a white and black swirly-pattened ball on top, a glass tube filled with candy, and a black point at the end (Johnny Depp revealed in an interview with Nickelodeon Magazine that he had taken the one used in the movie as a souvenir for his kids). Since nobody is selling them, a market for homemade ones has sprung up on eBay.
Well, I figured if these people could make them, I could too. A quick trip to Home Depot and this is the result: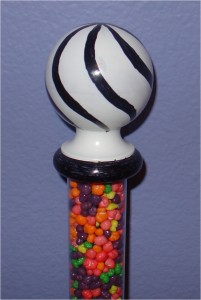 The top (see picture on the left) is a white curtain-rod end which I drew on with a sharpie, and the bottom is a bed footing of some sort, painted black (actually I really don't know what it is; it was shelved with the spindles for stair railings, but it doesn't look like any part of a railing I recognize). They are both screwed into a dowel that runs inside the plastic tube, which is for covering fluorescent lights. Fill the rest of the tube with Rainbow Nerds (available at 7-11), some electrical tape to seal the bottom, and you are good to go. It only took two boxes of Nerds because the dowel occupies a lot of the room inside the tube.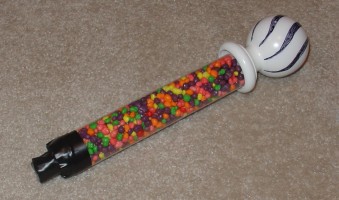 Our youngest son really wanted one of these so out of the extra parts I had lying around I made a miniature one for him, about ten inches tall (see picture on the right). The curtain rod thing came in a pack of two and I had cut down the dowel and the plastic tube to match our son's height better, so I had extra bits of those. We had extra Nerds also. However I didn't draw the swirl quite as well because the Sharpie ran out of ink. He still loved it and brought it into preschool for "sharing" (which is what they call "show and tell" now).
Our oldest son brought the big cane to Microsoft today for trick-or-treating in the halls (which as per my hope last year, they did earlier than actual Halloween), and everyone was quite impressed with the cane.
Posted by AdamBa at October 26, 2005 10:06 PM
Trackback Pings
TrackBack URL for this entry:
http://proudlyserving.com/cgi-bin/mt-tb.cgi/350
Comments
That's pretty cool, Adam. Katie REALLY wants a Wonka bar (think Veruca Salt with a Sony PSP), which as I have learned, is only sold in the USA (I think by Nestle). I have found a few distributors who will sell me a dry-ice packed (it gets hot on the way to Canada) crate full of Wonka bars, but I think that's a bit much. Any ideas where one can acquire, say, 10 Wonka bars?
On our trip to Hershey, PA a few weeks ago (Canadian Thanksgiving with the Amish), I couldn't find a single Wonka bar. Imagine that.
Posted by: Elliott Simcoe at October 27, 2005 05:38 AM
Adam thank you so much for this!
My son is having a Charlie & the Chocolate Factory themed birthday party this weekend, and I get to be Willy Wonka. We had drawn a blank on the cane until I read this post. A quick visit to Home Depot with a printout of this entry did the trick, although it seemed like most of the staff didn't know their stock well enough to locate some of the items (like the clear plastic tube). I wouldn't have been able to do this on my own...
Thanks!
Posted by: John Lawrence at November 2, 2005 01:34 PM