« Website for Find the Bug | Main | Microsoft Company Meeting Coming Up »
September 08, 2004
My bio AND a picture of history
This is my bio from the back cover of
Find the Bug
:
Adam Barr lives in Redmond, WA and works at Microsoft Corporation as a Program Manager on Windows Server. For ten years, he was a Software Design Engineer at Microsoft Corporation, where he worked on products ranging from Windows NT, Windows 2000, and Windows XP to Microsoft Interactive Television and Softimage Digital Studio. He has exceptional experience in C programming and Windows NT kernel development and debugging. He is author of Proudly Serving My Corporate Masters: What I Learned in Ten Years as a Microsoft Programmer.
This is the one from inside the book:
Adam Barr has been programming ever since he was in high school, when his father brought home a line terminal and a 300 baud modem. This was followed by an original IBM PC with a floppy drive and copy of DOS 1.0. After college he worked for a year and a half at Dendrite Americas, a small software company in New Jersey, and then spent ten years as a software developer at Microsoft, working primarily in the NT kernel. He took some time off to work on his first book Proudly Serving My Corporate Master: What I Learned in Ten Years as a Microsoft Programmer, and to be a full-time parent. In the fall of 2003 he returned to Microsoft as a Program Manager working on Windows Server. Adam received a Bachelor of Science in Engineering degree in Electrical Engineering and Computer Science from Princeton University in 1988. He lives in Redmond, Washington with his wife and four children.
The outside one is more serious and imposing. "exceptional experience in...Windows NT kernel development and debugging". Well, I certainly used to, although my skills are a bit stale.
The one inside is more "jokey". I looked at various computer books and it seemed all the author bios were like that ("likes to play guitar and surf...although not at the same time!") so I went with that vibe.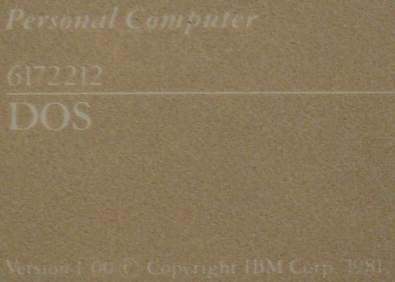 And I still have that DOS 1.0 diskette (it's a little hard to see in the picture there, but the version is 1.00 and the copyright date is 1981). At one point Microsoft had an exhibit of various artifacts in one of its buildings (all that stuff is now in the Microsoft Museum). They had an old copy of DOS, but even they could only scrounge up a DOS 1.1 diskette. I also have the manual, but it has been corrupted by the insertion of DOS 1.1 update pages. The original DOS manual was in a three-ring notebook, and DOS 1.1 came with just the pages that were to be updated; the user was responsible for going through and inserting them as needed.
Posted by AdamBa at September 8, 2004 10:03 PM
Trackback Pings
TrackBack URL for this entry:
http://proudlyserving.com/cgi-bin/mt-tb.cgi/17
Comments