« Day of Clearing | Main | The Halo Story »
September 25, 2007
OurSpace
On Monday we moved into our new space, remodeled as discussed in earlier posts about
Workplace Advantage
. There are still a few flat-panel displays to be hooked up, but it's basically complete. Today they ordered some food and invited families to come visit, so the kids got to run around the place a little bit and write with markers on the walls (which are designed for that).
It's only been two days but so far there haven't been many surprises sitting in the team space. You have unwanted interruptions from people yelling, but you also have the chance to quickly get questions answered, or move around to work together briefly. The exact protocols for this should work themselves out. One thing is that because of our teaching schedules, there will rarely be more than 4 of us in the room (the room seats 8 but there are only 7 of us now).
The space itself is quite nice (lots of windows) and the rest of the building looks dandy, especially the common spaces. This is a photo of a couple of people engaging in some impromptu bonding in the EE lounge: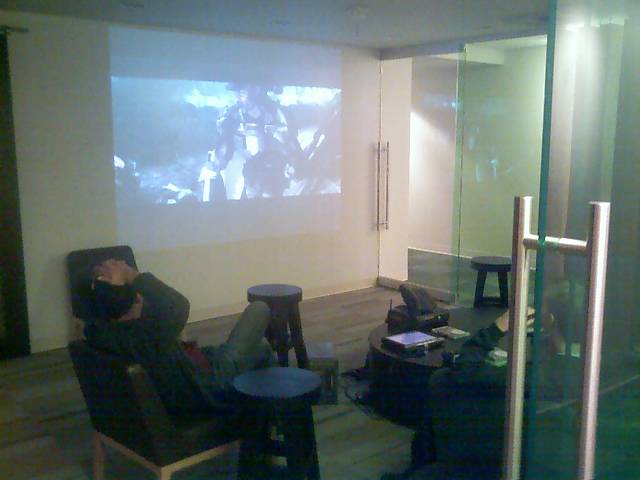 Our General Manager was kind enough to go out and buy the hardware and software to enable that.
Posted by AdamBa at September 25, 2007 09:15 PM
Trackback Pings
TrackBack URL for this entry:
http://proudlyserving.com/cgi-bin/mt-tb.cgi/618
Comments