« Microsoft's Corporate Network as Recruiting Device | Main | The Yankees Lose! The Yankees Lose! »
October 06, 2006
"Imagine the Magic": Where Are They Now?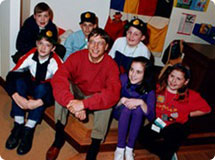 The two pictures are the winners (for 1995 and 1996) of a contest Microsoft used to run called "Imagine the Magic". They asked kids age 6-11 to submit essays on "what the coolest computer could do." The winners received an all-expenses paid trip to Redmond to get a tour of Microsoft and meet with Bill Gates.
The first picture shows the 1995 winners, identified (in a recent Micronews "From the Archives" piece) as Lee Flinchbaugh, Matthew Gaalswyk, Brian Margolis, Ben Harris, Jessica Jones, and Jennifer Paul. The second picture is from this article in the Honolulu Star-Bulletin, which identifies the 1996 winners and their home states: Hope Pomele of Hawaii, Brianna Pellicane of New Jersey, Victor Sriqui of Maryland, Brody Pav of Florida, Maryellen Cooley of Washington, and Joe Hemerly of Pennsylvania (and here is a Microsoft PressPass article that specifically identifies their hometowns and ages: respectively, Honolulu and 9, East Brunswick and 9, Bethesda and 10, Largo and 6, Spokane and 7, and Maytown and 11).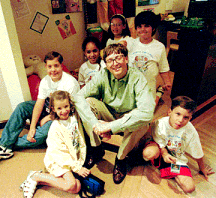 I got to thinking about this and realized that students who were 6-11 in 1995 and 1996 would be roughly 16 to 22 years old now. In other words, they would be nearing the end of high school or in college: the age when people nowadays tend to have personal websites with no fear of revealing details about themselves. I'm always curious about the kind of electronic imprint that people leave. Ten years ago these kids made headlines for their interest in computers; what can we find out about what this otherwise unrelated collection of people is up to now?
With the 1995 crew, it's harder because they don't list hometowns, and also a few of them have common names. There's no doubt that this is Lee Flinchbaugh, since he mentions "When I was much younger, in 3rd grade, I won a national contest called Imagine the Magic. I wrote an essay on what I thought the coolest computer should be able to do, and was flown out to Washington to meet with Bill Gates for my efforts". Lee is majoring in Information Sciences and Technology at Penn State. I suspect that the Mathew Gaalswyk on this list of members of the Oklahoma State math club is the same person; he is the only person with that name to have left any tracks on the web, and hey, it's the math club. Unfortunately, I couldn't find a Brian, Ben, Jessica or Jennifer who appeared to be the right one.
The 1996 crew is a bit easier to find (except for Joe Hemerly), but none of them specifically discuss their trip to Redmond. Hope Pomele was a third-grader in the spring of 1996; thus it's reasonable to think she is the same person identified as a high-school junior in the fall of 2003, and was also the Vice Chairperson of he Hawaii State Student Council. Couldn't find anything on what she did after high school, however. Brianna Pellicane was 9 in the spring of 1996 and there's a woman on myspace with the same name who claims to be 19 and from East Brunswick, although she doesn't seem to mention Bill anywhere (I won't link to her myspace account for fear of being arrested). She's currently a freshman at Wake Forest. Victor Sriqui, given that he was 10 in 1996 and from Maryland, is probably the person mentioned here in the fall of 2003 as a senior on the 2003 Walt Whitman high football team (which went 10-0). No record of him in college. Brody Pav is undoubtedly the one shown in the picture in this article about an investment club run by homeschool kids (which was crushing the market), but nothing else (at age 6, his cool computer "would make yucky food taste better by injecting kids' favorite flavors into it - it would create Bubble Gum Broccoli and Nacho Spinach"). Maryellen Cooley shows up at age 15 at Hoopfest 2004. She also has a myspace account; as with Brianna (and, I suspect, most girls who are into technology when they are young), she seems to have veered away from computers. And, like many people you can't quite track down, she's rumored to be in Canada.
Posted by AdamBa at October 6, 2006 10:20 PM
Trackback Pings
TrackBack URL for this entry:
http://proudlyserving.com/cgi-bin/mt-tb.cgi/502
Comments