« Converting between characters and their ASCII value in Monad | Main | Zippy Explains It All »
December 18, 2005
Seattle Weather Forecasts
Below is the weather forecast from yesterday's paper. Note the descriptions for Tuesday and Friday: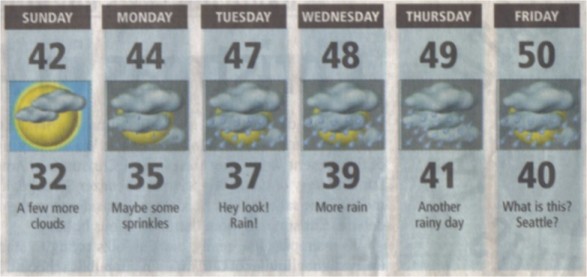 One of the problems with writing Seattle forecasts in winter is finding new ways to say "45 degrees and rainy", so I can understand the desire for occasional flights of fancy.
Speaking of weather, I was at Best Buy in Bellevue yesterday and there were people lined up to buy Xboxes that would become available at 8 am this morning. The guy in front said he had been there since 8 am yesterday (Robert Scoble evidently talked to the same guy). Last night driving home around 11 pm the temperature was 27 degrees, so those people were in for a chilly night. I asked inside and someone said they had 200 Xboxes on launch date. Then Bill Gates visited that specific Best Buy at midnight and when he realized they were going to sell out he switched to forward air controller mode and ordered a targeted air strike of 200 more units. But ever since the BillG hot read they have not received any more. This morning every store was supposed to receive a minimum of 20 more, but the store was hoping, due to their volume of sales, to get at least 50. There were definitely more than 20 people waiting in line out front yesterday at 1 pm, so some of them may have endured a freezing overnight and then gotten nothing.
Posted by AdamBa at December 18, 2005 10:17 AM
Trackback Pings
TrackBack URL for this entry:
http://proudlyserving.com/cgi-bin/mt-tb.cgi/374
Comments
The timing of that was rather odd though, coming after over two weeks of mostly sunny conditions and zero rain. It would have made more sense done in the midst of a long rainy spell.
Posted by: Rick at December 18, 2005 09:46 PM
One thing I forgot to mention is that we have actually had a run of dry weather...sunny days and below-zero nights...so this is partly a "What's that wet stuff coming out of the sky?" reaction.
- adam
Posted by: Adam Barr at December 18, 2005 09:58 PM
Which paper is that from ? :)
Posted by: Simon Cooke at December 19, 2005 11:52 AM
It was the Seattle Post-Intelligencer, on Saturday the 17th.
- adam
Posted by: Adam Barr at December 19, 2005 04:21 PM