« Technology in the Service of Mankind | Main | My Product Gets Slashdotted »
September 20, 2004
M&M Anniversaries
There is a "tradition" at Microsoft that is often-mentioned in blogs, which is that on the anniversary of your hire, you put a pound of M&Ms out for every year you have worked there (for example, on your first anniversary you put out one pound of M&Ms, on your second anniversary you put out two pounds of M&Ms, on your third anniversary you put out three pounds of M&Ms, on your fourth anniversary you put out four pounds of M&Ms, on your fifth anniversay you put out five pounds of M&Ms, on your sixth anniversay you put out six pounds of M&Ms, on your seventh anniversary you put out seven pounds of M&Ms, on your eighth anniversary you put out eight pounds of M&Ms, etc).
You can see this tradition mentioned here and here and here and here and...ahhh, you get the idea.
The interesting thing about this tradition is that I never heard of it when I worked at Microsoft from 1990-2000. So it's a new old tradition. In fact there is some unexplained legend lore around it. For example this post claims that the second anniversary is not a "traditional M&M anniversary". And over here someone says it was originated by an ex-MSFTer named Hans Spiller. I've actually contacted Hans previously for some of my other historical excavations, so I emailed him and I'll see what he says.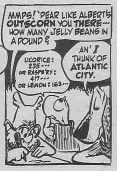 This seems like it might be a good interview question! Let's see, you've got 60,000 people at Microsoft, and 250 work days each year...so how many pounds of M&Ms are sitting in the halls of Microsoft on any given day?
Someone in my group just hit five years and brought in five pounds. Which we were still working away at one week later.
When you come back to Microsoft, you get an adjusted start date, which is moved forward by the amount of time you were absent. This lets them calculate your seniority accurately (seniority is used for 2 things -- how quickly you accrue vacation, and who gets first office pick, although that is also just a tradition (but one that was around back in 1990)). My real start date was March 5, 1990, but now after a 3 1/2 year absence my adjusted start date is September 22, 1993. This means that Wednesday is my 11-year anniversary, sort of. But it's not really my anniversary, plus I don't need 11 pounds of M&Ms anywhere in my sight distance, so I think I will continue to not follow this tradition.
Posted by AdamBa at September 20, 2004 09:57 PM
Trackback Pings
TrackBack URL for this entry:
http://proudlyserving.com/cgi-bin/mt-tb.cgi/33
Comments
Actually, I heard from a reasonable reliable source that an old-time (now-ex) 'softie started the tradition with 2-to-the-N pounds of M&M's. (I have not confirmed this, but if you want to ask him, go here: http://ask-leo.com/.)
So the way I figure it, you owe us a ton.
Posted by: Danny Glasser at September 24, 2004 03:52 PM
I got mail from Hans Spiller:
----- Original Message -----
From: "Hans Spiller"
on our mutual 10th anniversary, bob came to me wanting to go to costco to get 10 pounds of M&Ms for his 10th anniversary. we were in adjacent offices at the time. I had a costco card, he did not. so we went, got 10 pounds, and put it in a bowl on a guest chair like that outside our offices. I did do it again, but only 5 pounds, on some other anniversary. I was aware that other people had done it, but not that it was a big thing. I retired on my 17th anniversary...
P.S. [This is Adam again, not Hans, asking Danny a question] What about the episode of Miami Vice where Fiona is a sex worker and they play that Public Image song?!?!?!?
Posted by: Adam Barr at September 24, 2004 06:49 PM
When I started in IIS in 1997, N pounds of M&Ms on your Nth anniversary was a full-blown tradition. Where it came from or how long it had been in force, I cannot say.
Posted by: George V. Reilly at September 25, 2004 05:35 PM