« Level 1 Evaluations | Main | Bad Website »
November 02, 2006
La Poutine de Chez Nous
Do you know what this is?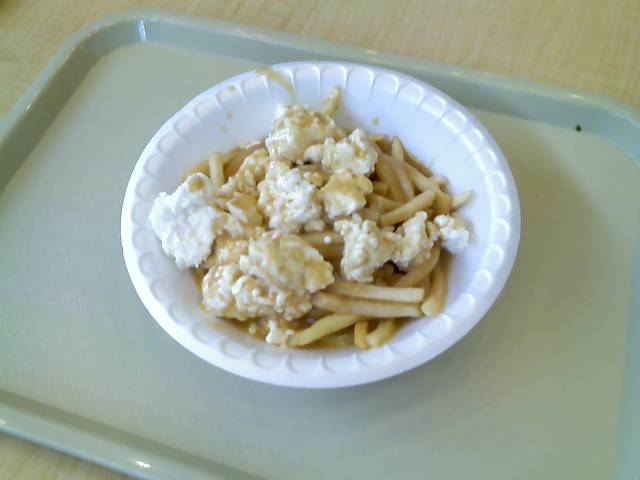 The gastronomically curious and the maple syrup addled may recognize this as poutine, that weirdoid emulsion of french fries, cheese, and gravy that emerged form the wilds of Quebec around the same time as Rene Simard. The astonishing thing is that this picture was taken right here on Microsoft's campus, in the Building 34 cafeteria.
It turns out that starting this month, Cafe 34 will be offering poutine for the first week of every month. A guy in a chef's uniform said it was "for the Canadians". So today is day 4 of the poutine invasion. I asked if anybody was actually eating it and the guy said they couldn't make it fast enough (no word on whether anybody was ordering it a second time, but it is Thursday and people are still lining up).
The actual product wasn't bad. The cheese lumps were much too large, so they didn't half-melt like they are supposed to, but it tasted reasonable (by this I mean "it tastes like poutine from Montreal", I am not making an editorial comment on whether it should be considered food, etc). Also, this presumably means you can order fries with gravy, which will be heartening on those cold gray Seattle winter days.
Posted by AdamBa at November 2, 2006 03:16 PM
Trackback Pings
TrackBack URL for this entry:
http://proudlyserving.com/cgi-bin/mt-tb.cgi/514
Comments
It should be observed that the name in French of the Russian president is "Poutine". All sorts of amusing possibilities here.
Posted by: marble chair at November 2, 2006 06:50 PM
Not surprising given all the people I know at MSFT from Waterloo! :D
I'm a fan of poutine too; I had it for the first time while at Whister a few years back. Yum!
Posted by: Mark Jen at November 3, 2006 08:39 AM
Looks like they used the right cheese this time. The last time they claimed to offer poutine in Cafe 4, they used mozzarella...
Posted by: Jeremy at November 4, 2006 08:54 AM